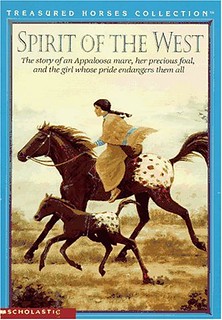 A part of the Treasured Horses Collection, Spirit of the West tells the story of 10 year old Wind Dancer (Jessie). Jessie is an Indian and has been raised in a tipi with her tribe.  She has grown to love and work with the Appaloosa breed.
Things change greatly when her father is offered a job on a large ranch to work with the horses there.  Jessie is excited but apprehensive about the move. As she settles into life on the ranch, she realises how different her Indian roots are from the 'civilised' white people she is surrounded by.
Eager to fit in, the young girl finds it easier to ignore her roots and try to live like the others – wearing boots instead of moccasins, sleeping under a roof and between four walls rather than on the floor. Jessie's riding skill came on account of the roots she is trying to hide.  Yet it may just be the thing that gains her acknowledgement with her classmates.
She is only able to do this however if she goes against her father's wishes. Spirit of the West is the tale of one girl's pride and determination to fit in, in spite of how she's been raised. The story has a great moral, beautiful illustrations and ends nicely. Spirit of the West is also an interesting historical read that teaches young readers about the Appaloosa breed and doing what is right.
Author: Jahnna M. Malcolm
https://www.goodreads.com/author/show/6039.Jahnna_N_Malcolm
Fiction – children
In My Library? It is indeed!
Want it? Get it now at Amazon.
"To see the wind's power, the rain's cleansing and the sun's radiant life, one need only to look at the horse." – Author Unknown